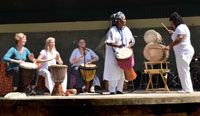 LEXINGTON, Ky.— A spoken word and musical performance featuring Affrilachian poets Frank X Walker, Ricardo Nazario y Colón, Jeremy Paden and Bianca Spriggs, and musical guest, The Sisters of the Sacred Drum, will be Thursday, Feb. 7, at 7 p.m. in Transylvania University's Carrick Theater.
Affrilachian poetry offers glimpses into life in the American Black South and the Appalachian region, dispelling the notion of an all-white Appalachian region and culture. The poetry draws on traditions such as the Harlem Renaissance, the Black Arts Movement, and the experiences of the African Diaspora.  Affrilachian poetry celebrates African heritage and rural roots while encompassing themes of racism and Black identity. In this performance, the theme of ancestry is explored through the poets' original work.
Frank X Walker is a founding member of the Affrilachian Poets and is the author of four poetry collections. He co-produced the documentary "Coal Black Voices: the History of the Affrilachian Poets." He currently serves as associate professor in the department of English at the University of Kentucky and is the editor and publisher of "PLUCK!, the new journal of Affrilachian Art and Culture." In 2002 Transylvania University awarded Walker an honorary Doctor of Letters Degree.
Nazario y Colón, co-founder of the Affrilachian Poets, was featured in the PBS documentary "Coal Black Voices" in 200. His work has been featured on the Bob Edwards show and the Kentucky NPR Affiliates WFPL and WUKY, as well as in the program "Casting the Dye: a Reading with the Affrilachian Poets." His book, "Of Jibaros and Hillbillies" and his chapbook "The Recital" were both published in 2011.
Bianca Spriggs is a multidisciplinary artist who lives and works in Lexington. Currently a doctoral student at the University of Kentucky, she holds degrees from Transylvania University and the University of Wisconsin-Milwaukee. Named as one of the Top 30 Performance Poets by TheRoot.com, Bianca is the recipient of a 2013 Al Smith Individual Artist Fellowship in Poetry, multiple Artist Enrichment and Arts Meets Activism grants from the Kentucky Foundation for Women, and was nominated for a Pushcart Prize.
Jeremy Paden is a professor of Spanish at Transylvania University. His poems have appeared in the Atlanta Review, Beloit Poetry Journal, Cortland Review, Louisville Review, and other journals and anthologies. His chapbook "Broken Tulips" is forthcoming with Accents Publishing.
The Sisters of the Sacred Drum create drum rhythms for celebration and as a tool for communication, empowerment and community building.
The event is presented by Transylvania University's Office of Diversity and Inclusion.