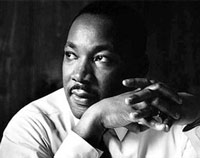 LEXINGTON, Ky.—In 1994, the Martin Luther King, Jr. federal holiday was designated by Congress as a national day of service, charging Americans to make the third Monday in January a "day on, not a day off."
On Monday, Jan. 21, Transylvania University students, faculty and staff will celebrate the 2013 Martin Luther King, Jr. Day of Service by joining members of the Lexington community to perform service projects.
Several service opportunities will be available at Transylvania and include donating blood, writing letters of thanks to troops for serving overseas, making valentines for several Lexington organizations and knitting scarves for Special Olympics. The projects listed are open to the public.
Projects at Transylvania
Donate blood (with Kentucky Blood Center)
William T. Young Campus Center
Corner of Fourth Street and Broadway
10:30 a.m.-4 p.m.
Call 276-2534 to sign up.
Write letters of thanks to the troops
William T. Young Campus Center
1-3 p.m.
Make valentines for the Adult Day Center, UK Children's Hospital and the Ronald McDonald House
William T. Young Campus Center
1-3 p.m.
Knit scarves for Special Olympics
CARE House
439 W. Fourth Street
1-3 p.m.
Bring your own supplies
Because space is limited, volunteers are asked to register at http://uwbg.galaxydigital.com/volunteer/agency/display/mlk-day-of-service/?agency_id=3747 prior to volunteering. For more information, contact Karen Anderson at (859) 233-8182, or kanderson@transy.edu.