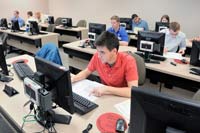 LEXINGTON, Ky.—Transylvania University accounting students will assist taxpayers with an income of $50,000 or less in the preparation of Internal Revenue Service income tax forms 1040, 1040A, 1040EZ and the Kentucky form 740. The service is free. All forms will be filed electronically. They cannot prepare Schedule C forms.
Student volunteers will be available each Wednesday in February (6, 13, 20 and 27) from 3-5:30 p.m. at Transylvania's Cowgill Center for Business, Economics and Education on Third Street. This is a popular program and taxpayers will be served on a first-come, first-served basis.
Transylvania accounting students, who have completed an income tax preparation training program, will work under the supervision of accounting professors to aid taxpayers.
Individuals interested in this free service should bring with them all of the necessary information including: their W2s, 1099s (interest income), state and federal tax returns from last year, the IRS forms received in the mail and the birthdates and social security numbers for any dependents.
Transylvania has offered this free program to the Lexington community for more than 30 years.
For more information, contact Stephanie Coriale at (859) 233-8104.