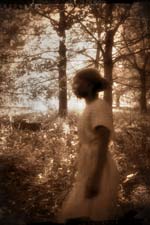 LEXINGTON, Ky.—Transylvania University's Morlan Gallery presents "The Thirteen," a visual art exhibition and live musical/spoken word performance paying homage to 13 black women and girls who were lynched or otherwise violently murdered in Kentucky. The exhibition opens Wednesday, Jan. 16, at noon, and runs through February 15. The performance takes place on Wednesday, Jan. 23, from 7:30-9 p.m., in the Carrick Theater, in the Mitchell Fine Arts Center. It is free and open to the public.
"The Thirteen" exhibition seeks to enshrine the shared history of the 13 women and girls and will feature photographs and video by Angel Clark as well as pieces by Transylvania graduate Bianca Spriggs, including original poetry, pen and ink drawings and resin skulls.
"The Thirteen" production, made possible in part by the Kentucky Arts Council and the Kentucky Foundation for Women, will feature performances by an ensemble of 12 Kentucky musicians and vocalists paired with spoken word poetry by Spriggs.
Spriggs is an Affrilachian Poet and Cave Canem Fellow. A multidisciplinary artist who lives and works in Lexington, Ky., Spriggs is currently a doctoral student at the University of Kentucky. She holds degrees from Transylvania University and the University of Wisconsin. Named one of the Top 30 Black Performance Poets in the U.S. by TheRoot.com, she is a 2013 recipient of an Al Smith Individual Artist Fellowship in Poetry, a Pushcart Prize nominee and a recipient of three Artist Enrichment Grants from the Kentucky Foundation for Women. In partnership with the Kentucky Domestic Violence Association, she is the creator of the Swallowtale Project, a traveling creative writing workshop designed for incarcerated women, and the creator and artistic director of the Gypsy Poetry Slam featured annually at the Kentucky Women Writers Conference. The author of "Kaffir Lily" (Wind Publications) and "How Swallowtails Become Dragons" (Accents Publishing), Spriggs is the current managing editor for "pluck! Journal of Affrilachian Art and Culture."
Clark is a photographer/filmmaker and creator of the newly-formed Parkour! Productions and Media Design team. She is a native of Richmond, Va., but after more than 10 years, considers herself an honorary Lexingtonian. Currently, she serves as the director of the Center for HIV Prevention and Community Outreach at AVOL (AIDS Volunteers, Inc.). She is also involved in the Swallowtale Project with the Kentucky Domestic Violence Association. Her photographs have appeared in "pluck! Journal of Affrilachian Arts and Culture," the Lexington Herald-Leader, Kentucky Monthly, Appalachian Heritage Magazine and the UK Appalachian Stories Project.
The Morlan Gallery is open weekdays from noon-5 p.m. and by special appointment. The gallery will be open regular hours for the Martin Luther King Jr. holiday on Monday, Jan. 21. The gallery will be open from 5-8 p.m. on Feb. 15, the last day of the exhibit, for Lexington's Gallery Hop. For more information, contact Morlan Gallery Director Andrea Fisher at (859) 233-8142, or afisher@transy.edu.