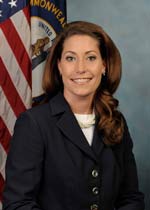 LEXINGTON, Ky.—Kentucky Secretary of State Alison Lundergan Grimes will hold a Civic Health Initiative roundtable at Transylvania University's William T. Young Campus Center on Tuesday, Jan. 8, from 12:30-1:30 p.m. The event is free and open to the public, with a meet and greet session from 12:15-12:30 p.m.
In November, Grimes kicked off the Civic Health Initiative, a statewide series of roundtable discussions at Kentucky's universities and colleges to improve Kentucky's overall civic health.
"Earlier this year, my office released Kentucky's first ever Civic Health Index, which unfortunately shows that civic engagement in Kentucky is generally declining," said Grimes in a press release from her office in 2012.
"Kentucky is at its best when everyone is engaged," Grimes continued. "The Civic Health Initiative is the first step toward establishing new partnerships and formulating fresh strategies that will bridge existing participation gaps."
The event is sponsored by Transylvania's Office of Community Service and Civic Engagement and the Kentucky League of Women Voters in Lexington, Ky.