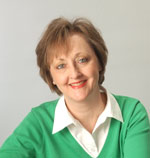 LEXINGTON, Ky.—Kathy J. Susman, campus counselor at Transylvania University, has been appointed by Kentucky Governor Steven L. Beshear to serve a four-year term on the Kentucky Board of Examiners of Psychology.
The board, which is composed of eight psychologists and one citizen at large, examines and licenses candidates for entry into the profession of psychology. It also conducts formal hearings and prosecutes any violations of Kentucky's laws and regulations concerning the practice of psychology.
Susman is a certified psychologist with autonomous functioning who has been at Transylvania since 2010. She has a master's degree in clinical psychology from Marshall University and a master's in public administration from the University of Kentucky. She has provided behavioral health services and administration of public mental health programs for over 20 years.