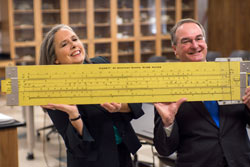 Deans Jagger and Walz playfully display a giant slide rule, now an old-fashioned symbol of engineering, that was used as a demonstration model to teach Transylvania science students how to use normal slide rules to perform calculations. Slide rules were used by engineers before calculators became smaller and cheaper.
LEXINGTON, Ky.—To prepare students who want to work in an engineering field, Transylvania University has announced a new partnership with the University of Kentucky. Transylvania students can now take up to six courses at the University of Kentucky College of Engineering as part of their undergraduate work and be fully prepared to enter a master's or doctoral engineering program upon graduation.
"This innovative partnership between Transylvania and the UK College of Engineering provides our students an extraordinary opportunity," said Kathleen Jagger, Transylvania's interim vice president and dean of the college. "The liberal arts promotes the critical reading, imaginative thinking and engagement with big ideas that will serve engineers well in their future careers. Taking foundational engineering courses alongside liberal arts courses will engage students more purposefully in the future they see for themselves and prepare them optimally for graduate studies in engineering."
This new partnership with UK allows the students to remain on Transylvania's campus for their entire four-year undergraduate career. Previously, the only option was a 3-2 arrangement, where students earn a B.A. in physics or liberal studies from Transylvania in three years, then a B.S. in engineering from UK or Vanderbilt University in two years. That option is still available.
"This agreement is beneficial to both of our universities," said John Walz, dean of UK's College of Engineering. "I am always interested in educating as many students as possible about engineering concepts.  And hopefully, some of these students will consider UK for possible graduate studies."
Through the new arrangement, Transylvania students can begin their engineering courses at UK as early as their sophomore year. Most courses are taken in the junior and senior years, with no more than two courses taken in any one semester. These courses provide students with necessary prerequisites for graduate study in engineering. The UK courses are transferred back to Transylvania and count toward the total credits required for graduation. These courses are covered in Transylvania's tuition and fees and students incur no additional costs. Students must have a 3.0 cumulative GPA and sophomore standing to participate in the pre-engineering program.
Transylvania, founded in 1780, is the nation's sixteenth oldest institution of higher learning and is consistently ranked in national publications as one of the top liberal arts colleges in the country.