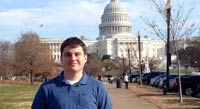 LEXINGTON, Ky.—Junior Michael Case knew he would have to miss two days of classes the week before finals, but when you're personally invited to the White House by the Office of Public Engagement, you figure out how to make it work.
Case, a political science and international affairs double major and president of Transylvania University's College Democrats, received an invitation to tour the White House and attend an issues briefing about averting the fiscal cliff. He was selected after gaining the attention of the Obama campaign leadership in Kentucky for organizing a trip to go to Cincinnati and go door to door for President Obama's re-election campaign.
"I did not realize how much Kentucky has to lose in the budget debates," said Case. "Kentucky is one of those states that collects more from the federal government than it pays in. Social Security, Medicare and Medicaid contribute 23.6 billion dollars to our state's economy, annually."
While in Washington, Case had breakfast at The Center for American Progress, a center-left think tank, and listened to presentations about the fiscal cliff and how it should be handled. He heard briefings about how Kentuckians would be impacted if no agreement is reached before December 31, including one by Jon Carson, director of the White House Office of Public Engagement. Case worked alongside other Kentuckians to formulate a plan of action for motivating fellow Kentuckians to contact their representatives in Congress before the end of the year.
"Since neither Democrats nor Republicans like what is slated to happen on January 1, if no action is taken, there is little reason beyond hyper-partisanism that a compromise can't be made," said Case. "The best thing we can do, no matter our party affiliation, is to contact our representatives and make sure they know that we are watching them and that if they choose to stand idly by while the country goes off the fiscal cliff, we will hold them accountable."
Before becoming president of College Democrats, Case served as the club's director of political affairs. Under his leadership as president this year, club members volunteered for former Congressman Ben Chandler's re-election campaign, canvassed for Obama in Cincinnati, and attended debate watch parties hosted by the Fayette County Democrats. Along with the Transylvania College Republicans, the political science department, and Pi Sigma Alpha, the College Democrats hosted an election night watch party and the club recently started a speaker series, Left of Center. Political science professor Jeff Freyman was the inaugural speaker and spoke to a full house about The American Empire.