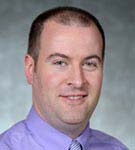 Jason Whitaker, vice president for information technology
LEXINGTON, Ky.—Transylvania University's rollout of Ellucian's Business Object Reporting Tool won the Association of Independent Kentucky Colleges and Universities' (AIKCU) 2012 Technology Award for Best New Campus Application System. The award is given to the university or college that has implemented a major new application or significantly enhanced an existing system that improves operational performance and/or service for all or part of its students, faculty and staff.
Jason Whitaker, vice president for information technology, said that Ellucian's Business Objects Reporting Tools give staff the ability to quickly build their own reports from the campus enterprise system without IT assistance.
"The tools are easy to use with a drag and drop interface to build reports and add charts and graphs," he said. "Users can even schedule reports to run automatically and be sent to their e-mail inbox. These tools have transformed how we access and use data to report and make decisions."
Whitaker said that while any user friendly reporting tool is a plus, his staff went the extra mile to make the rollout work for Transylvania users. "The IT staff met with each administrative office to introduce the software, provide training and help build some of the first reports. As users began building their own reports and learning the tools, IT followed up with advanced training and additional support."
An important part of the process was the IT staff helping to identify institutional reporting problems, which have caused issues in the past, and then facilitating inter-office communication and training to use the new tools to solve those problems.
With the new system, Transylvania's administrators, staff and faculty have easier access to data reports from the campus enterprise system and users are empowered to build and change their own reports without having the IT staff to do it for them.
"Regular reports that were once tedious to build and required manual work are now automated, saving valuable time," said Whitaker. "Most importantly, we now have quick access to accurate data to help us analyze campus."