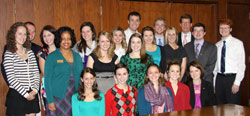 LEXINGTON, Ky.—Thirteen Transylvania University students and university president R. Owen Williams were recently inducted into the Lampas Circle of Omicron Delta Kappa.
Omicron Delta Kappa, a national leadership honor society, was founded in 1914 at Washington and Lee University in Lexington, Va., by fifteen students and faculty members. In the tradition of the idealism and leadership of George Washington and Robert E. Lee, the founders of ODK formulated the idea that leadership of exceptional quality and versatility in college should be recognized.
Students apply for ODK membership in their junior or senior year. Selection is based on academic ranking, extracurricular activities and leadership roles. New members are selected by current ODK members and must pass with a 75 percent approval rating.
The new members are:
President R. Owen Williams
Junior Cody Steven Barnett of Viper, Ky.
Senior Cassie Caudill of Henderson, Ky.
Junior Abigail Elliston of Lexington, Ky.
Junior Brianna Hill of Lexington, Ky.
Junior Kristina B. Houchins of Winchester, Ky.
Junior Brian Hudson of Shepherdsville, Ky.
Junior Kelsey Michelle Meece of Somerset, Ky.
Junior Melissa R. Moberg of Waxahachie, Texas
Junior Emily Novak of Naperville, Ill.
Junior Karl Alexander Schmitt of Fort Mitchell, Ky.
Junior Maria Angela Starck of Louisville, Ky.
Senior Caroline Tapscott of Franklin, Tenn.
Junior Raisa Olivia Tikhtman of Lexington, Ky.
Transylvania, founded in 1780, is the nation's sixteenth oldest institution of higher learning and is consistently ranked in national publications as one of the top liberal arts colleges in the country.