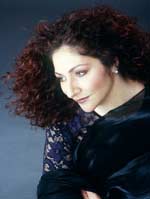 Soprano Christine Goerke
LEXINGTON, Ky.—Transylvania University will host four concerts for the inaugural season of the Gail Robinson Series, beginning with a performance by Metropolitan Opera star Christine Goerke on Saturday, Nov. 3, at 7:30 p.m. in Haggin Auditorium. Tickets are available through the Singletary Center box office at (859) 257-2949, online or in person.
Robinson, a soprano, sang with many of the world's leading opera companies in the 1970s and 1980s. She spent 34 years at the Metropolitan Opera, including ten years as executive director of the Met's Young Artists Program. She was also director of the Met's National Council Auditions. In 1999, she became a voice professor at the University of Kentucky, where she taught until her death in 2008. Three of her mentees, Goerke, Gregory Turay and Michelle DeYoung, are featured in the inaugural season of the recital series.
Soprano Goerke has appeared in the major opera houses of the world including the Metropolitan Opera, San Francisco Opera, Santa Fe Opera, Washington National Opera, Royal Opera House Covent Garden, Paris Opera, La Scala, Teatro Municipal de Santiago and the Saito Kinen Festival. She has sung much of the great soprano repertoire, beginning with the Mozart and Handel heroines and now moving into the dramatic Strauss and Wagner roles.
Goerke has also appeared with leading orchestras including the New York Philharmonic, Boston Symphony Orchestra, Chicago Symphony Orchestra, Cleveland Orchestra, Los Angeles Philharmonic, Sydney Symphony and the Orchestra of the Age of Enlightenment. Goerke's recording of Vaughn Williams' A Sea Symphony with Robert Spano and the Atlanta Symphony Orchestra won the 2003 Grammy Award for Best Classical Recording. She is the recipient of the 2011 Richard Tucker Award.
For more information and a list of other performances in the 2012-13 season of the series, visit http://www.unitedartistsandauthors.com/news/?page_id=2.