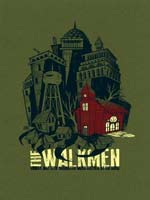 Sara Turner (Cricket Press) "The Walkmen" (2012)
LEXINGTON, Ky.—Transylvania University's Morlan Gallery celebrates local printmakers with its newest exhibition, Lexington Legatees: Contemporary Printmaking in the Bluegrass, which opens Monday, Nov. 5, and runs through Wednesday, Dec. 5.
The exhibition focuses on Lexington printmakers who carry on the city's strong printmaking history. Artists in the exhibition include Nick Alley, Cricket Press (Sara and Brian Turner), Joel Feldman, Liz Foley, Homegrown Press (Johnny Lackey), Hound Dog Press (Nick Baute and Robert Ronk), Larkspur Press (Gray Zeitz) and dRock Press (Derrick Riley).
Kentucky's first printmaker set up shop in Lexington in 1787. John Bradford unloaded his press and type from the Ohio River landing in Maysville and traversed 65 miles of rough roads to establish the Kentucke Gazette. In the 1940s, when hobby presses were all the rage, noted Viennese artist and printmaker Victor Karl Hammer moved to Lexington to serve as artist-in-residence at Transylvania. The quick result was a deepening dedication to the fine craft of book arts by these home press operators. Although Hammer had many devotees, it was printmaker Carolyn Reading who advanced the press in Lexington perhaps more than any other, eventually establishing the King Library Press, located in the Margaret I. King Library at the University of Kentucky. Reading and Hammer married in 1955.
Lexington Legatees artist Gray Zeitz bridges the gap between the vibrant Hammer era and today's resurgent printmaking scene in Lexington. Zeitz, who learned the craft of printing from Carolyn Reading Hammer, is the founder and publisher of Larkspur Press, which has produced dozens of fine, letterpress hand-bound editions of works by Kentucky poets and writers for almost 40 years. He is regarded as one of the finest small press printers and designers of books in the region and the country. On October 9, Zeitz received Kentucky's highest recognition for an artist, the Governor's Award for the Arts.
The four Lexington Legatees artists who studied at the University of Kentucky, Sara and Brian Turner (Cricket Press), and Nick Baute and Robert Ronk (Hound Dog Press) have carried UK's letterpress tradition forward into contemporary expressions of the media by creating posters, invitations and business cards for clients. While Hound Dog Press is exclusively letterpress, Cricket Press creates a variety of illustration and graphic design work, including but not limited to logo designs, T-shirt designs, stationery and invitations.
John Lackey, who was twice voted by Ace Magazine voters as Lexington's best artist, is the founder and operator of Homegrown Press. Lackey's stylized woodcuts, inspired by the flora and fauna of Kentucky, have been widely used to illustrate the work of Kentucky authors such as Wendell Berry, James Still and Ed McClanahan.
Derrick Riley works predominately in woodcut and has exhibited in numerous national and international shows, including two shows at the Contemporary Museum of Art in St. Louis in 2012. His work is in many private and public collections including Rutgers University, Boston College and the College of Notre Dame. Riley currently teaches drawing and printmaking at Transylvania, as well as teaching at Asbury University and the University of Kentucky.
Another Lexington Legatee artist working in woodblock printing is Liz Foley, who is printing on top of collaged onion prints to create layers of information. Foley is the director of the Bluegrass Printmakers' Cooperative (BPC).
"Having a community print studio makes Lexington a more vibrant arts scene," she said. "It adds another dimension. When Ross Zirkle had the vision for the BPC he kept saying that there were places for painters and draftsmen in Lexington—we needed a place for printmakers. And now we have it."
Joel Feldman is retired from directing printmaking for the School of Art and Design at Southern Illinois University, Carbondale. He is an adjunct professor with the School of Art and Visual Studies at the University of Kentucky. Feldman is an artist who works in a variety of media and is represented by Swanson and Reed Gallery in Louisville. He exhibits widely both nationally and internationally and has been the recipient of numerous awards, grants and residencies.
Nick Alley grew up in Cincinnati and Union, Ky., and attended Murray State University and the University of Kansas for his bachelor of fine arts and master of fine arts degrees. He currently works as a trainer at an electronics retailer and makes his art in his Lexington basement/studio and shed.
"I've repeatedly told the neighbors [it] is not for illicit drug making, despite the chemical gloves and safety goggles," he said.
Special events
"The Business of Art"
Presentation by Sara and Brian Turner (Cricket Press)
Tuesday, Nov. 13, 12:30-1:15 p.m.
Morlan Gallery
Lexington Gallery Hop
Friday, Nov. 16, 5-8 p.m.
Art Talk by Derrick Riley (dRock Press)
Tuesday, Nov. 20, 12:30-1:15 p.m.
Morlan Gallery
"The Small Press History of Lexington"
Presentation by Jim Birchfield
Tuesday, Nov. 27, 12:30-1:15 p.m.
Morlan Gallery
Holiday Party and Print Sale
Wednesday, Dec. 5, 5-7 p.m.
Artists will attend. Cash and check only please.
The Morlan Gallery is open weekdays, noon to 5 p.m., and by appointment. The gallery and all listed events are free and open to the public. For more information, please visit www.transy.edu/morlan, or contact Andrea Fisher, director of the gallery, at (859) 233-8142.