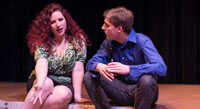 LEXINGTON, Ky.—Which comes first, love or trust? The lives of six characters in Transylvania University Theater's production of "Trust" intersect romantically and platonically as the play attempts to answer this question. The no-holds-barred look into the world of fame, love, betrayal, and ultimately, trust, is set against the backdrop of the pop music scene and runs Nov. 29-30 and Dec. 1 at 7:30 p.m. and Dec. 2 at 2 p.m. in Transylvania's Lucille C. Little Theater.
Senior Laura Campbell, of Georgetown, Ky., makes her directorial debut with this Steven Dietz contemporary dramatic comedy.
"It's been a lot of work," said Campbell, a theater major and music minor. "I've been living with this play for eight months, and it's been an amazing experience to work with these talented actors and to tell this story. I wouldn't want to finish my time at Transy any other way."
This modern drama blends love, lust, and lying into a whirlwind tour. "Trust" sketches out the bumps and grinds of modern relationships as Becca, engaged to pop idol Cody Brown, learns exactly what it means to be a rockstar's girlfriend. At the same time, Cody discovers the dangerous lures of fame, while has-been Leah Barnett struggles to make a comeback and teach him a few things along the way. Stories collide, betrayals occur, and life moves on, as the word trust is called into question.
Tickets are $10 and may be reserved by calling the box office at (859) 281-3621, Monday-Friday, from 1-4 p.m.