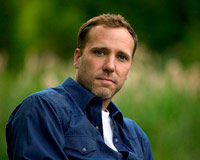 LEXINGTON, Ky—Maurice Manning, Transylvania University English professor and writer in residence, is one of the judges selecting the 2012 National Book Award poetry prize, presented by the National Book Foundation. The awards will be announced Wednesday, Nov. 14, in New York City. Other National Book Award prizes include fiction, non-fiction and young people's literature.
Manning, on a panel with four other judges, selected five finalists for the poetry prize from 181 submissions. They are: "Bewilderment: New Poems and Translations," by David Ferry; "Heavenly Bodies," by Cynthia Huntington; "Fast Animal," by Tim Seibles, "Night of the Republic," by Alan Shapiro; and "Meme," by Susan Wheeler. On Tuesday, Nov. 13, finalists from all categories will give readings at The New School in New York City.
Manning, who lives in Washington County, Ky., was named to Transylvania's faculty in January and began teaching full time in September.  He says he sees good writing coming from good thought, and that is what he hopes to teach his students.
"There is a powerful connection between reading and thinking," he said. "If a student learns how to read with depth and focus, then he or she will most likely start thinking that way, too. And then the student's own writing will develop and mature."
Manning has published four books on poetry, including his most recent, "The Common Man," which was one of three finalists for the 2011 Pulitzer Prize in Poetry. His first collection, "Lawrence Booth's Book of Visions," selected for the 2000 Yale Series of Younger Poets. He has had his works in publications including The New Yorker, Washington Square, The Southern Review, Poetry, Shenandoah, and The Virginia Quarterly Review.
He earned a B.A. in English from Earlham College in 1988, an M.A. in English from the University of Kentucky in 1996, and an M.F.A. in creative writing from the University of Alabama in 1999.
Related links:
Manning's New York Times op-ed (Nov. 5, 2012)
Prominent Kentucky poet Manning joins Transylvania faculty