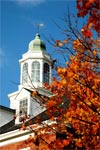 LEXINGTON, Ky.—Transylvania University President R. Owen Williams announced today that this year's entering class of 350 is the second largest in school history, tied last year's class as the most academically prepared and set school records for geographic and racial/ethnic diversity.
Transylvania also set a new school record for freshman to sophomore retention, with 88 percent of last year's entering class returning this fall. The national average for freshman to sophomore retention rates at private, nonprofit colleges is 79 percent, according to the College Board. Total enrollment is 1,074 students.
Transylvania's high retention rate can be attributed to many factors, including a student/faculty ratio of 11:1 and an average class size of 14, with no classes having more than 35 students and 47 percent of classes having fewer than 10 students.
Members of the class of 2016 have an average ACT of 27, a middle 50 percent ACT range of 24-30 and an average GPA of 3.72. Forty-one percent were ranked in the top 10 percent of their high school class. They include 34 students who took part in either the Kentucky Governor's Scholars Program or the Kentucky Governor's School for the Arts.
Geographically, the class is the most diverse in 38 years and includes 99 students from outside Kentucky who make up 28 percent of the class. Ohio led the way in out-of-state students, followed by Tennessee, Indiana and three states in a tie—Florida, Texas and West Virginia.
Twelve international students comprise the largest such group in school history. They come from China, Mexico, Poland, Taiwan, the United Kingdom and Vietnam. The 47 students who self-identify as people of color comprise 13 percent of the class, also a school record.
"We are thrilled to have achieved all of our strategic enrollment goals for academic quality and diversity with this class," said Brad Goan, vice president for enrollment and dean of admissions. "We continue to bring classes to Transylvania that, coupled with the creativity of our faculty members, make possible the kind of exciting living and learning experience for which Transylvania is known."