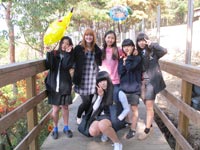 LEXINGTON, Ky.—Transylvania graduate, Rachael Williams, former Fulbright Scholar in South Korea, has been honored for her work in public diplomacy. The U.S. Ambassador to South Korea, Sung Kim, presented Williams an award at the conclusion of a three-day Youth Diplomacy Program for 24 Korean secondary students. Williams has coordinated the program since 2010.
The program emphasizes the role diplomacy plays in resolving global conflicts, English language acquisition, leadership and careers in diplomacy. Students listened to guest speakers, participated in small-group discussions and in a mock United Nations session. The students were selected through a highly competitive application process open to schools throughout the Korean peninsula.
A Murray, Kentucky native, Williams graduated from Transylvania in 2009. Following graduation she served as a Fulbright Scholar in South Korea. The Fulbright program is a prestigious international exchange program designed to increase mutual understanding between the U.S. and other countries, supported by the U.S. Department of State. As a Fulbright Scholar, Williams was the curriculum director of Camp Fulbright, an English language immersion program. She also mentored incoming Fulbright grantees, volunteered at a community orphanage and taught North Korean defectors.
Williams is currently enrolled in the School for International Training in Vermont and plans to fulfill her practicum requirement in South Korea next year. She also works in World Learning's International Education and Development Program Office as a student assistant.