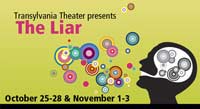 LEXINGTON, Ky.—Transylvania University Theater opens the 2012-13 season with "The Liar," which runs Oct. 25-27 and Nov. 1-3, at 7:30 p.m., and Oct. 28, at 2 p.m., in Transylvania's Lucille C. Little Theater.  
Sullivan Canaday White, program director and assistant professor of theater, directs this Pierre Comielles farcical romance set in mid-seventeenth century France and linguistically adapted for today by David Ives.
Dorante is a charming young man with a single flaw: He cannot tell the truth. In quick succession he meets Cliton, a manservant who cannot tell a lie, and falls in love with Clarice, a charming young woman whom he unfortunately mistakes for her friend Lucrece. What our hero regrettably does not know is that Clarice is secretly engaged to his best friend Alcippe. Nor is he aware that his father is trying to get him married to Clarice, whom he thinks is Lucrece, who actually is in love with him.
"If I had to pick one word to describe it I would say 'silly,'" said junior Andrew Traughber, who plays the role of Dorante's father, Geronte. "The set is very colorful and close enough to the audience that they may feel as if they are a part of the set. The costumes are comic renditions from the period; think Three Musketeers meets Liberace, without the glitter and sequins."
Tickets are $10 and may be reserved by calling the box office at (859) 281-3621, Monday-Friday, from 1-4 p.m. For more information, contact Transylvania's  fine arts office at (859) 233-8141.