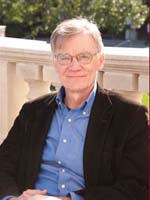 LEXINGTON, Ky.—The Kentucky Civil War Round Table and Transylvania University will host a presentation by David Blight Monday, Sept. 17 at 6:30 p.m. in the Mitchell Fine Arts Center's Haggin Auditorium. The lecture is titled "Civil War and Emancipation in American Memory, Then and Now."
Blight is a professor of history at Yale University and director of the Gilder Lehrman Center for the Study of Slavery, Resistance, and Abolition. Following the presentation, Blight will answer questions from the audience.
Yale calls Blight "one of the nation's foremost authorities on the US Civil War and its legacy." He served  on the board of advisers to the Abraham Lincoln Bicentennial Commission and is the author of American Oracle: The Civil War in the Civil Rights Era. He spoke at Transylvania's Presidential Inaugural symposium in the spring of 2011.