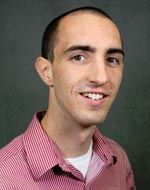 LEXINGTON, Ky.—Troy Heffron joins the Transylvania University staff as the AmeriCorps VISTA volunteer in the office of community service and civic engagement.
Heffron will coordinate the celebration of Martin Luther King Jr. Day of Service with community projects involving students from Transylvania, Bluegrass Community and Technical College and the University of Kentucky. Heffron will develop programs to increase the number of tutors on the Transylvania Tutoring Team and support the development of the Fayette County Public Schools Volunteer System. He will also plan Transylvania's September 11 National Day of Service and Remembrance and National Volunteer Week events.
Heffron graduated from Central Michigan University with a bachelor's of science in business administration. He was the alternative break chairperson and summer staff member for the Mary Ellen Brandell Volunteer Center where he provided assistance to the advisory board of 18 student leaders, implemented program policies and managed weekly meetings. He also planned volunteer events to promote active citizenship and service learning. In the summer of 2011 he was the marketing, communications and development intern for the Nashville Sports Council, responsible for updating social media sites and writing web content and newsletters.