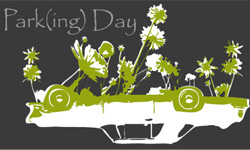 LEXINGTON, Ky.—Transylvania's Haupt Circle parking lot spaces will be transformed into miniature parks on Friday, September 21, from 8 a.m. to 1:30 p.m. in support of international PARK(ing) Day.
The movement, which began in 2005, challenges people to re-think our use of urban spaces and to question the use of public urban lots and empower citizens to redefine public space to suit community needs.
 Students, faculty and staff have been invited to get a group together and reserve a parking space to convert to a park.
The event is organized by Transylvania's office of sustainability and Louis Johnson of Urban Collage, coordinator of Lexington's PARK(ing) Day events.
Sustainability is one of the five core values that Transylvania  incorporates into all aspects of campus life.
Watch a video of Transylvania's PARK(ing) Day.