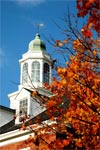 LEXINGTON, Ky.—Transylvania University moved up six places—from 81 to 75—in the 2013 U.S. News & World Report college rankings released today while also being named to the publication's Great Schools at Great Prices list. It is Transylvania's highest ever ranking since becoming a part of the national liberal arts colleges category.
In its Best Colleges 2013 guidebook, U.S. News ranks 251 national liberal arts colleges and universities in statistical measures such as student graduation and retention rates, financial resources, commitment to instruction, class size, faculty pay, student selectivity and alumni giving, as well as a subjective measure of academic reputation.
The Great Schools at Great Prices list recognizes colleges and universities for the value of the educational experience they provide in relation to the cost of obtaining a degree. Transylvania's tuition and fees fall below the national average for comparable private liberal arts colleges.
"This latest national recognition of the high quality liberal arts studies that Transylvania offers its students is very gratifying to our entire campus community," said President R. Owen Williams. "Everyone who is a part of this historic university is committed to excellence, and our students reap the benefits of that devotion. This ranking is a testament to the hard work of students, faculty, and staff members."
Brad Goan, vice president for enrollment and dean of admissions, said inclusion in the Great Schools at Great Prices list confirms the university's philosophy of making private higher education affordable to as broad a market as possible.
"From the moment students and their families begin to explore a Transylvania education, we work with them on a very personalized basis to find all of the scholarships and need-based aid that can be applied to their situations," Goan said. "This approach keeps the real cost of attending Transylvania at a very attractive level when compared with our peer institutions."