LEXINGTON, Ky.— During the August 11 induction ceremony for Transylvania's class of 2016, President R. Owen Williams presented each first-year student with a large, gold commemorative coin inscribed with the university's motto: In Lumine illo Tradimus Lumen ("In that light, we pass on the light").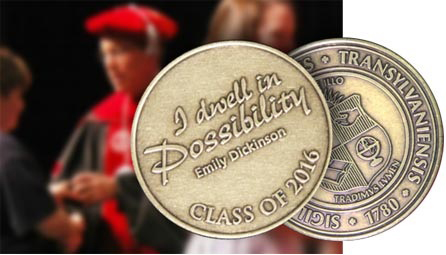 As Michael Covert, associate vice president for retention and associate dean of students, explained, "We believe that the education that Transylvania students receive yields enlightened individuals. Each generation of Pioneers benefits from the light of those who came before, and in turn offers the same to those following behind."
The other side of the coin is inscribed with a quote from poet Emily Dickinson: "I dwell in Possibility."
Students were charged with keeping the coin in a safe place during their four-year tenure at Transylvania. As they prepare for graduation in the spring of 2016, the students will be asked to present their coin to someone who played a significant role in helping them graduate. Covert emphasized that this will likely not be an easy decision, and students should consider the recipient carefully.
Judging by the reactions on social media, students embraced this new tradition and the tangible reminder of the university's and the students' goals. The coin is a symbol of the unlimited possibilities of each student and the unwavering dedication of the faculty and staff. With the exchange of this token, there is every expectation that these students will indeed "pass on the light."