LEXINGTON, Ky.—Poet and professor Nikky Finney, winner of the 2011 National Book Award for Poetry, will deliver the convocation address for the beginning of the academic year at Transylvania University on Sunday, Sept. 9, at 7 p.m. in Haggin Auditorium. Her presentation is entitled "The Art of Being Taken With Yourself."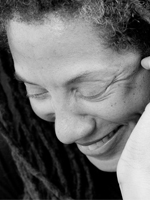 Finney is Guy Davenport Endowed Professor of English at the University of Kentucky. Her 2011 collection of poems, Head Off & Split, was published by Northwestern University Press and won the National Book Award.
The collection caused critics to hail Finney as "…one of the most eloquent, urgent, fearless and necessary poets writing in America today…." (Kwame Dawes, author of Hope's Hospice) and as a writer who "…takes the reader to a wonderfully alive world where the musical possibilities of language overflow with surprise and innovation." (Bruce Weigl, author of What Saves Us)  Finney was raised in South Carolina as the daughter of a civil rights attorney and a teacher and came of age during the civil rights and black arts movements. Those facts of her upbringing continue to exert powerful influences on her writing and teaching. Many of her poems relate intimately to emblematic figures and events in African American life, from civil rights pioneer Rosa Parks to former secretary of state Condoleezza Rice.
The National Book Award nominating form said that Finney's poems dramatize the struggle for justice and speak of "…family and politics, violence and compassion; they bear witness to the experience of Black America and to alternate sexualities."
Finney's debut collection of poetry, On Wings Made of Gauze, came out in 1985. In 1995, her next book of poetry and portraits, RICE, won the PEN America Open Book Award, and was followed in 1998 by her collection of short stories entitled Heartwood. Her 2003 poetry collection, The World is Round, won the Benjamin Franklin Award for poetry from the Independent Booksellers Association. In 2007 she edited the anthology The Ringing Ear: Black Poets Lean South, which has become an essential compilation of contemporary African American writers.
Before coming to UK, Finney held the Goode Chair in the Humanities at Berea College and was editor, writer, and photographer for the National Black Woman's Health Project in Atlanta. She earned a B.A. in English literature at Talladega College in 1979 and did graduate studies in African American literature at Atlanta University.