Ashley Gutshall and Tristan Fretwell have been named assistant directors of residence life at Transylvania University.
They will maintain housing records and the physical condition of the residence halls, lead staff functions, provide program support, and mentor the residence life student staff.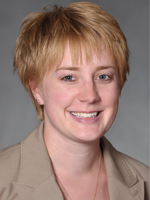 In 2008, Gutshall worked through Americorps VISTA in Transylvania's office of community service and civic engagement. She developed and recruited students for an Alternative Spring Break, established a mentoring program and bridged connections between the campus and the community.
 "I am so excited to be back at Transy," Gutshall said. "I loved my time here with the AmeriCorps VISTA program and I am looking forward to working with our wonderful staff and students."
Gutshall interned with Housing and Dining services at Kansas State University and worked as a graduate assistant for sexual assault and violence intervention and prevention with the University of South Carolina (USC). She has a B.A. in English from James Madison University and an M.A. in higher education and student affairs from USC.
Fretwell has been at Transylvania since 2011 as the area coordinator of residence life. He oversaw four upper-class student residence halls, participated in an emergency on-call system, maintained the staff budget, bi-weekly staff meetings and recruited prospective residence life members.
"With so many exciting changes to the university this year I cannot wait to start working with our incredible students and amazing staff and faculty," Fretwell said.
Before coming to Transylvania he was a resident advisor at Sullivan University, residence life coordinator at Asbury University and social services worker for the Cabinet for Health and Family Services in Nicholasville.
Fretwell has a B.A. and an M.A. in social work from Asbury University and the University of Kentucky, respectively.