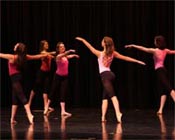 LEXINGTON, Ky.—The Governor's School for the Arts 2012 summer session comes to a close Saturday, June 7 at Transylvania University, highlighted by final student performances around campus and a graduation ceremony at 5:15 p.m. in Haggin Auditorium in the Mitchell Fine Arts Center.
Final performances, including those in instrumental and vocal music, musical theater, visual arts, drama, new media and architecture, will begin at various campus locations at noon. All final day events are open to GSA parents, friends and relatives as well as the public and media. Previous final day performances have attracted over 1,200 people to the campus. Refreshments will be available at various locations near Old Morrison, Transylvania's administration building on Third Street.
Final performances will be held at the Mitchell Fine Arts Center, the Little Theater, the Shearer Art Building, the Haupt Humanities Building, Old Morrison and the Cowgill Center. See a campus map here.
A total of 225 high school students from 43 Kentucky counties have been on campus since June 17, immersed in a rigorous schedule of daily seminars, master classes, lectures, hands-on workshops and field trips to local arts attractions. Over 1,500 students attended auditions for the 225 positions, which are valued at $2,800 per student.
GSA is free to all students selected for the program. GSA pays the entire cost per student through the General Assembly under the leadership of the governor, along with donations from individuals, corporations and private foundations. Nearly 100 percent of GSA participants go on to college, and 93 percent earn scholarships at an average value of $59,000. GSA alumni also score, on average, 6 points higher on the ACT than the national average.
Graduates of the summer program are eligible for a host of scholarships and educational opportunities in all fields of study. Transylvania is one of many colleges and universities from across the country that auditions and interviews graduates in the fall during GSA's College and Career Day.
Funding for GSA is provided by the state through the leadership of the Governor's Office and the Kentucky Tourism, Arts and Heritage Cabinet, as well as The Kentucky Center Endowment Fund, Toyota Motor Manufacturing and more than 300 corporations, parents, educators, alumni and friends of GSA.
For more information about GSA, visit www.kentuckygsa.org or contact Carrie Nath at (502) 562-0718.
For more information about Transylvania University, visit www.transy.edu or contact the public relations office at (859) 233-8120.