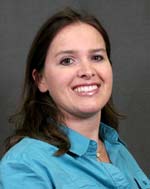 LEXINGTON, Ky.—Michelle Rawlings, who has served as assistant registrar at Transylvania since 2009, became registrar effective July 1, filling the vacancy left after Jim Mills's retirement. Mills came to Transylvania in 1984 from Western Kentucky University, where he was assistant registrar.
Rawlings will be a familiar face to students returning in the fall, as she's worked closely with hundreds of students for the past three years.
"Just about every student that comes in, I know their face or their name," she said. "I like knowing that the students know they can come in anytime."
"Michelle will do great," Mills said. "She's very good, especially with the new online registration. If it wasn't for her, I don't know how we would have gotten by the last few years."
Rawlings previously was registrar at Sullivan University. She holds a bachelor's degree in business administration from the University of Kentucky and a master's in business from Sullivan.