LEXINGTON, Ky.—Grammy Award-winning saxophonist Kirk Whalum will perform at Transylvania University Saturday, Aug. 4 as part of the Lexus Smooth Jazz Fest. This year marks the fifth anniversary of the acclaimed event, which is presented by the African American Forum and will be held at Transylvania for the first time.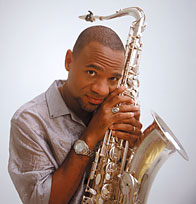 The festival will be held outdoors on Old Morrison front lawn on Third Street between Broadway and Mill and will celebrate contemporary American jazz, with live music, food, and examples of Kentucky culture.
Whalum won a Grammy Award for Best Gospel Song in 2011 for "Hello Fear" and is a successful solo player and collaborator, featured on hit songs including "I Will Always Love You" by Whitney Houston. His most recent album, Romance Language, debuted at number one on the Billboard Contemporary Jazz Chart.
The African American Forum is a non-profit organization based in Lexington that develops programs to support the artistic, cultural and educational achievements of African Americans in order to embrace diversity and create a greater, united culture. Net proceeds from the Lexus Smooth Jazz Fest will benefit the African American Forum Endowment Fund.
Tickets start at $30 and are on sale now at AAFinc.com or by calling (859) 255-2653. Group rates are available.