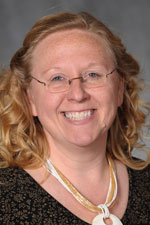 LEXINGTON, Ky.—Karen Anderson, coordinator of community service and civic engagement at Transylvania University, was one of 140 Bluegrass Community Connectors honored Tuesday at the Griffin Gate Marriott in Lexington.
Last August, the Bluegrass Community Connector Project began accepting nominations of people throughout the region who are great civic connectors and make things happen in their communities. More than 5,000 nominations were received.  
Since 1994, Anderson has worked with the campus community to make meaningful connections with local and regional communities through short and long term community service projects, civic engagement programming and support for service-learning classes. While at Transylvania, she has participated in more than 25 service trips throughout the United States. In 2005, she co-chaired a national committee to assist Susan G. Komen for the Cure to restructure their volunteer program. She serves on the board of the League of Women Voters, Lexington and the Kentucky Campus Compact Advisory Board, and has been an officer of the Kentucky Association of Housing Officers and the Central Kentucky Association of Volunteer Administrators
Anderson has volunteered with Habitat for Humanity, The Carnegie Center for Literacy and Learning, the Lexington Humane Society, Big Brothers/Big Sisters of the Bluegrass, East Seventh Street Center, Komen's Lexington and many other organizations. She received a bachelor's degree in political science from Minnesota State University and a master's of education degree from Kent State University.
Only the fifth such project in the country, the Bluegrass Community Connector Project is supported by the United Way of the Bluegrass. Other communities that have utilized a connector project include Philadelphia, Pa., and Louisville, Ky.