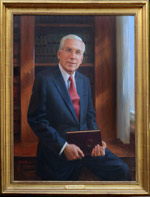 LEXINGTON, Ky.—A portrait of Transylvania President Emeritus Charles L. Shearer was unveiled during a reception for the Board of Trustees held at the home of President and Mrs. R. Owen Williams.
Board chairman William T. Young Jr. presented the portrait on behalf of the university as a way of paying tribute to Shearer's 27-year tenure (1983-2010) as president, a period that saw significant increases in enrollment, endowment, scholarships and campus buildings.
"Charles Shearer was in office longer than any other Transylvania president and guided the university to some of its greatest achievements," Young said. "It is with great affection and admiration that we commemorate his service to Transylvania through this striking portrait."
The painting was created by Robert Kuester, an award-winning artist who lives and paints in New Mexico. Kuester holds a degree from the Art Center College of Design in Pasadena, Calif. The oil-on-canvas portrait, done in a realistic style, measures 30 by 40 inches.
"Robert did a very nice job of creating a warm, not overly serious likeness, and I especially like the attention to detail with things like my hands," Shearer said. "I'm very honored and grateful for this portrait."
Leslie Baldwin, wife of Transylvania business administration professor Bill Baldwin and a sales associate for Kentucky with the international firm Portraits, Inc., facilitated the selection of Kuester from among the 175 portrait artists represented by the organization. Transylvania art professor Nancy Wolsk was a consultant for the project.