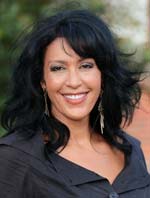 LEXINGTON, Ky.—President R. Owen Williams has announced that anthropology professor Barbara LoMonaco will become vice president for student affairs and dean of students on July 1.
Mike Vetter, who served in the position for 15 years, will serve as special assistant to the university, where he will work with the development, alumni relations and admissions offices as well as the president on special assignments.
LoMonaco came to Transylvania in 1996 after earning her B.A. in philosophy and M.A. and Ph.D. degrees, both in cultural anthropology, from Southern Methodist University. During her tenure at Transylvania, an anthropology major was added to the curriculum.
LoMonaco's extensive faculty service record includes a number of positions directly related to student life, including her membership on the Alcohol Task Force, Judicial Council (chair), Selection Committee for Student Orientation Leaders, Sexual Grievances Judicial Board, Delta Delta Delta First-Year Woman Award Selection Committee and the Transylvania Scholarship Committee (chair).
"I am delighted that Barbara has accepted this key position," said President R. Owen Williams. "She is a one-woman nuclear power plant who will completely transform the face of student affairs on our campus. From her earliest days at Transylvania, Barbara has been heavily involved in student affairs. She has an excellent rapport with students as advisor and mentor, and I am sure she will bring energy and dedication to her new role."
LoMonaco said she has ideas for initiatives in several areas of student life, including community service, leadership training, campus recreation and social and wellness programming.
"I think we are on the verge of wonderful changes at Transylvania over the next few years through our campus planning and other strategic planning initiatives," she said. "The timing for me to assume this new position could not be better in terms of thinking about new opportunities."
LoMonaco will continue as a voting member of the faculty and will teach one or two courses per year.
Williams said that Vetter's new roles will dovetail perfectly with his experiences at Transylvania over the past 15 years.
"Mike has provided great service to the university as dean of students, and I look forward to his contributions in this new role," he said. "Mike seems to know everyone in the Transylvania family, and his connections will prove invaluable as he pursues key fundraising initiatives and new ideas toward involving alumni more in the student recruitment process."
One of Vetter's new roles will be to serve as a major gifts officer in the development office, which is where he will now be located. An emphasis will be on fundraising for the new athletics fields to be constructed on a 10-acre plot along West Fourth Street recently purchased by the university, and for projected new residence and academic facilities that are part of strategic planning now taking place.
Vetter will also work with the alumni office and admissions office to increase participation by alumni in identifying and helping to recruit prospective students.