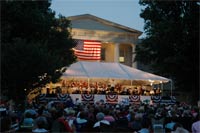 LEXINGTON, Ky.—Transylvania University and the city of Lexington will team up for the 28th year to celebrate America's independence on the campus of one of the nation's oldest colleges with a patriotic concert on Tuesday, July 3 at 8 p.m.
The free concert will feature the musical talents of the Lexington Philharmonic Orchestra and the Lexington Singers beginning with performances of "Star-Spangled Banner" and "My Old Kentucky Home." The event annually draws a crowd upwards of 5,000 stretching across the lawn of historic Old Morrison and down to the Carnegie Center in Gratz Park.
The Young at Heart Dixieland Jazz Band will perform in Gratz Park prior to the concert, beginning at 5:30 p.m. The concert is sponsored by Hilliard-Lyons, Transylvania University, the Downtown Lexington Corporation, the Lexington-Fayette Urban County Government and WLEX-TV.
Handicapped accessible parking will be available in the semi-circle driveway on Broadway between Third and Fourth streets.
For more information, contact the public relations office at (859) 233-8120 or Tamara Deckard at the Downtown Lexington Corporation at (859) 425-2592.