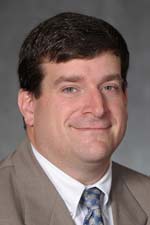 LEXINGTON, Ky.—Bob Brown, current director of residence life at Transylvania University, has been named associate dean of student affairs, effective July 1. He came to Transylvania in 2001 as assistant director of residence life and became director of residence life in 2005.
His new responsibilities will include residence life, student involvement and leadership, judicial affairs, community service and civic engagement and the William T. Young Campus Center. He will be involved in refining the university's student affairs policies, supporting general student needs and planning for future residence hall and campus construction.
"This is a much deserved progression in Bob's Transylvania career," said Barbara LoMonaco, vice president for student affairs and dean of students. "He will now have the opportunity to use the student life skills he has demonstrated over the past decade in a number of new areas that will greatly benefit the university."
Brown earned a bachelor of science degree in mathematics from the University of Kentucky and a master of science in higher education and student affairs administration from Indiana University.
"My new role will allow me to support those who have day-to-day interactions with students and ensure that our student affairs programs are working for the  best interests of students and Transylvania," said Brown.