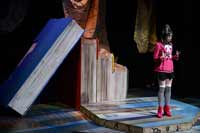 LEXINGTON, Ky.—Transylvania University's Theatre Guild offers up a Shakespearean action-adventure-fantasy with "Rough Magic," in the Lucille C. Little Theater May 17-19 at 7:30 p.m. and May 20 at 2 p.m.  
Transylvania senior Heather Porter directs the regional premiere of this play, written by Roberto Aguirre-Sacasa.
Transplanting characters from "The Tempest" to present-day New York, "Rough Magic" conjures a mythical, magical meta-universe in which the evil sorcerer Prospero is willing to do anything to recover his stolen book of magic, even if it means Manhattan's destruction. Luckily, Manhattan's defenders include a quartet of unlikely heroes: a plucky, raven-haired dramaturg named Melanie Porter, who has the ability to free characters from plays; Prospero's hunky, though not-to-bright son, Caliban; a revenge-seeking Fury from ancient Greece named Tisiphone and Chet Baxter, a 17-year-old lifeguard from Coney Island.
General admission tickets are $10 and may be reserved by calling the box office at (859) 281-3621, weekdays from 1-4 p.m. For more information, contact Sully White at swhite@transy.edu.