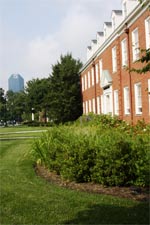 LEXINGTON, Ky.—On Wednesday, May 16, from 11 a.m.-1 p.m., Transylvania University will host a garden party to unveil new signage for Transylvania's rain garden, one of the first in Lexington. A traditional sign has been created by Kayla Kidwell-Snider '12 and Barbara Grinnell, Transylvania's graphic designer. Kidwell-Snider has also created hand-painted interactive signage for the garden. These signs are blocks mounted on a threaded rod. Each side of the block has different information, such as a picture of the plant with the name, a picture of an animal that uses the plant, a fun fact about the plant and information on when the plant blooms or where to plant it. The party is free and open to the public and representatives from the Lexington-Fayette Urban County Government will attend.
The garden signage is the final component of Transylvania's nearly $4,900 Stormwater Quality Grant that the university received in December 2010 from the LFUCG. The grant was to fund education initiatives related to water quality, specifically, how people's actions can impact water quality. With the grant money, which Transylvania matched at 50 percent, the sustainability office has held workshops on rain barrel making, rain gardens and environmentally friendly lawncare for faculty, staff and students. Last May term, the office also hosted Town Branch Tuesdays to increase stormwater quality awareness, including a progressive lunch garden party, a scavenger hunt, a water festival and storm drain painting.
For more information, contact the public relations office at (859) 233-8120 or Angela Dossett at (859) 233-8278.