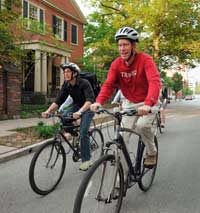 LEXINGTON, Ky.—Transylvania University will participate in National Bike to Work Day May 18, when Transylvania community members are invited to meet at Shriner's Hospital on Richmond Road and bike in together, or arrive on their own and join in a light breakfast in front of Old Morrison provided by Transylvania's Wellness Works committee. The university will host two other events to celebrate National Bike Month.
The Transylvania sustainability office will offer a bike safety and maintenance workshop on Monday, May 7, at 3 p.m. in the William T. Young Campus Center for faculty, staff and students. Michael Galbraith, an instructor certified by the League of American Bicyclists, will give a talk about bike safety. Transylvania's bike program managers and a bike mechanic will help participants get their bikes ready for the biking season and teach basic bike maintenance skills. The labor and instruction are free, and parts will be available for sale.
A painting party and ribbon cutting for Transylvania's first bike shelter, located behind Forrer Residence Hall, will be held Thursday, May 17, at 3 p.m. The sustainability office will provide paint and brushes to paint the shelter. Snacks, including smoothies blended by the smoothie bike, will be available, and Radio TLX, Transylvania's student radio station, will provide music.
Last year, Transylvania faculty, staff and students celebrated National Bike to Work Day by riding to campus with President R. Owen Williams from his home, about three miles away. Several members of the Transylvania community commute by bike regularly, and Transylvania has bikes on campus that can be checked out by faculty, staff and students who need to make quick trips around the city.
May was designated as National Bike Month in 1956 by the League of American Bicyclists to highlight cycling and promote safe bicycling. As for commuters who cycle to work, Lexington is ranked 64th out of 244 communities with populations greater than 65,000, based on American Community Survey data compiled by the Census Bureau.