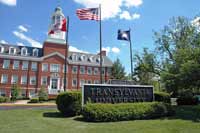 LEXINGTON, Ky.—Transylvania University President R. Owen Williams announced today that the entering class for fall 2012 has set school records for geographic and racial/ethnic diversity and academic preparedness.
The entering class of 333 includes 95 students from outside Kentucky—more than double last year's number—who make up 29 percent of the class. The 40 students who identify themselves as a racial or ethnic minority comprise 12 percent of the group, while nine are international students from China, Mexico, Taiwan and Poland. Academically, the members of the class of 2016 attained an average ACT of 27, a middle 50 percent ACT range of 25-30 and an average GPA of 3.69.
In addition, the class represents 21 states and includes 34 students who took part in either the Kentucky Governor's Scholars Program or the Kentucky Governor's School for the Arts.
"The composition of this class is really something special and reflects our continuing emphasis on the quality and nature of our student body," Williams said. "Having a good, strong number of 333 so far is good news for the university, but it's also the type of student we are attracting that bodes well for Transylvania's future."
Vice President for Enrollment and Dean of Admissions Brad Goan said that the overall number of 333, which is the largest in the past five years, is expected to grow over the summer with the addition of transfer students and could become the largest incoming class in school history. He also pointed to the university's strategic enrollment plan as a catalyst for the successful recruitment of the class of 2016.
"All of these record-setting accomplishments are goals found in our strategic plan and represent a campus-wide effort to attract the best, brightest and most diverse students to Transylvania," Goan said. "It's very exciting to see the results of this work."
Among the specific initiatives that are paying off for Transylvania are the creation of co-curricular opportunities, such as the new men's and women's lacrosse and equestrian hunt seat teams, increased use of social media in new student recruitment and expanded outreach to out-of-state students and guidance counselors. Premier and fine arts scholarship programs have also been expanded.
This year the university also launched the Pioneer Pledge, a commitment that guarantees graduation in four years, an optional program that locks in tuition rate for four years and a 12-month payment plan.
"Another factor that continues to be a strong recruiting tool for us is Transylvania's location in Lexington," Goan said. "The city's size and sophistication give our students many advantages in terms of internship opportunities and cultural and entertainment options."
Read the Lexington Herald-Leader article here.