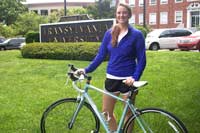 LEXINGTON, Ky.—Kelsey McComas says she's never been much of a biker. "But I'm learning to be," she quickly adds.
That's a bit of an understatement. McComas, who will graduate from Transylvania University May 26, is scheduled to leave June 20 from Portsmouth, N.H., and spend the next 10 weeks biking 3,700 miles across country to Vancouver, British Columbia.
It's all for a good cause: Bike and Build, a non-profit that organizes trips in which groups of about 30 participants bike along eight cross-country routes and, along the way, build affordable housing for deserving citizens. Each rider must raise $4,500, and more than half of those funds go toward the building projects.
"I've been active in community service since high school," said McComas, an Ashland, Ky., native who volunteered at her community's hospice, took a Transylvania service learning course in the Philippines and helped raise funds for Children's Miracle Network. "I'm in a transitional stage of life right now—graduating from college and entering the real world. This is the perfect time to do something productive on my own, and I'm looking forward to seeing the immediate impact of our construction projects."
McComas started training for her ride in January, alternating between daily regimens of weight lifting and cardio. Once she raised $1,000, Bike and Build sent her a bike to use on the trip, and she started practicing on Lexington's Legacy Trail.
She says she'll be ready when she gets to Portsmouth, where she'll complete a two-day orientation to learn how to ride safely with a group and make on-the-road repairs. "I've never changed a bike tire," she admits.
Each rider will carry a camel-back container of water and a few supplies. A van will follow the group to transport additional equipment and for safety purposes. Community centers, schools and YMCAs will provide lodging and meals along the way, and once a week, the group will spend an extra night in a town to complete a building project.
"I've never undertaken such a huge time and energy commitment before, but this is what I'm most excited about—testing my limits and myself," says McComas. "I'm also looking forward to seeing the U.S. I've never been further west than Bozeman, Montana."
After her summer adventure, McComas hopes to work for AmeriCorps and then enroll in pharmacy school.
For more information or to support McComas, go to www.bikeandbuild.org/rider/5975.