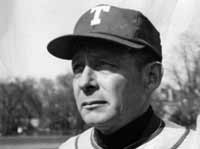 LEXINGTON, Ky.—Harry Stephenson, whose relationship with Transylvania University as student, coach, teacher and administrator totaled a remarkable 63 years, died May 15 in Lexington. He was 95.
Stephenson enrolled as a first-year student at Transylvania in the fall of 1936. His association with the university was interrupted by military service during World War II, a year earning a master's degree after the war, and another year of high school teaching. He joined Transylvania's faculty and staff in 1948, and when he retired in 2006 had achieved a 58-year employment tenure at his alma mater that became a 63-year association when his student days were added on.
"Transylvania has lost a leading member of its family with the passing of Harry Stephenson," said President R. Owen Williams. "There have been few people in the long history of this institution in whose hearts the spirit of Transylvania burned so brightly."
"Harry Stephenson was the epitome of an educator," said athletics director Jack Ebel, a 1977 graduate of the university. "Countless Transylvania students and athletes developed lifelong relationships with Harry through his dedication to mentoring young people. Harry was an exceptional friend to the university whose commitment began 76 years ago when he came here as a student."
Stephenson's Transylvania studies were sidelined by his service as a crew chief and engineer on a C-47 troop carrier with the U.S. Army Air Corps from 1942-45. He had played professional baseball with the St. Louis Cardinals organization during the summers while a Transylvania student, and briefly tried to revive his career in 1945 before returning to the university to complete his B.A. degree in 1946. He then earned a master's degree in physical education from the University of Kentucky and taught from 1947-48 at Georgetown (Ky.) High School.
He joined the faculty and staff of Transylvania in the fall of 1948 as assistant professor of physical education and health and as head men's basketball and baseball coach. As the years went by, he also became athletics director, head men's golf coach and intramural director. He was a pioneer in Kentucky in improving sports officiating and organized some of the first officiating clinics.
During his coaching years, Stephenson won several National Association of Intercollegiate Athletics coach-of-the-year honors and was inducted into the Transylvania Pioneer Hall of Fame in 1996. In 1993 the university awarded Stephenson and his wife, the late Willie Mae Montague Stephenson, a 1946 Transylvania graduate, the Morrison Medallion, the highest honor given to an alum for service to their alma mater. He retired from full-time faculty duty in 1983 and was awarded professor emeritus status.
Stephenson was a native of Nicholas County, Ky., and a graduate of Lexington's Henry Clay High School.
In a 1998 interview on the occasion of Stephenson's 50th anniversary as a Transylvania employee, then-head men's basketball coach Don Lane said, "Harry has always wanted to make Transylvania the best it could be, not just in athletics, but in every aspect."
Visitation for Stephenson will be Thursday from 5-8 p.m. at Milward Funeral Directors, 159 North Broadway, Lexington, and his service will be at 11:30 a.m. Friday at Milward-Broadway.

Related articles about Harry:

Lexington Herald-Leader: Remembering Transy's 'treasure,' Harry Stephenson
Spring 1999 issue of Transylvania magazine: 50 Years and Going Strong: Harry Stephenson has devoted himself to teaching and coaching at Transylvania
Summer 2007 issue of Transylvania magazine: Stephenson honored for 58 years of service