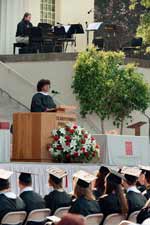 Poet Bianca Spriggs '03 speaks to the Class of 2012.
LEXINGTON, Ky.—Transylvania University President R. Owen Williams conferred the Bachelor of Arts degree to 241 students Saturday in a commencement ceremony on the steps of historic Old Morrison.
Bianca Spriggs, a renowned Affrilachian poet and 2003 Transylvania graduate, gave a unique commencement address in front of hundreds of spectators, presenting a poetry reading accompanied by graduating senior Caleb Ritchie on keyboard. Spriggs put out a call to seniors to submit responses to questions about their four years at Transylvania—what they would take with them to their careers and how they've grown as people. She used some of those responses in her presentation.
Spriggs, a history major and studio art minor at Transylvania, is in the doctoral program for creative writing at the University of Kentucky and has had an active career including writing, teaching, performance art and filmmaking. She earned a master's of arts in English composition/creative writing at the University of Wisconsin-Milwaukee.
She was named one of the Top 30 Performance Poets by TheRoot.com, a daily online magazine providing commentary on the news from black perspectives. She is recognized as a Cave Canem Fellow from the Brooklyn-based national writer's center that focuses on African American poets and writers, and she is the creator of The Swallowtail Project, a traveling creative writing workshop designed for incarcerated women throughout Kentucky.
Spriggs talked to the students about measuring time not in minutes and hours, but rather in non-traditional ways like how many fortune cookies you've cracked open, lines you've stood in, daydreams you've had and sandwiches you've made with the perfect ratio of peanut butter and jelly. She concluded by saying, "In this time, in this life, let us count on you, the most precious time capsule of them all."
Graduating senior Ashley Howe, a German studies and history double major from Danville, Ky., gave the student address. Her presentation, titled "Gemütlichkeit," was about finding comfort in discomfort and the preparation she got from Transylvania to be able to tackle seemingly insurmountable issues in the world outside the campus.
"Gemütlichkeit is a (German) word best used when describing coziness—an environment or state of mind marked by cheerfulness, calmness and a sense of belonging or social acceptance," she said. "What I have come to respect most about my class has been our eagerness to pervade discomfort—to move away from Gemütlichkeit—and this is a quality that makes us Transylvania graduates unique."
Howe was very active at Transylvania, serving as an Admissions Ambassador, Student Orientation Leader, German Club president, officer in Delta Delta Delta sorority, senator in Student Government Association and runner on the cross country and track teams. She is a member of several honor societies, including Omicron Delta Kappa Leadership Honorary, Phi Alpha Theta History Honorary and Delta Phi Alpha German Honorary. She will be attending Washington & Lee University School of Law to pursue a juris doctorate degree.
Facts about the Class of 2012
The class was as academically successful as any in the school's history, with 36 percent of the students earning Latin honors and 40 percent earning honors within their major programs. The class included three Fulbright Award winners who will teach English in various countries—Ben Costigan (Spain), Ruth Kloha (Malaysia) and Viktoria Safarian (South Korea)—and a Rhodes Scholar finalist, Lee Richardson.
Students in this senior class studied all over the world, with 64 percent of the students studying abroad in 31 different countries.
Eighty-eight percent of the class was involved in some form of community service, ranging from volunteering with the International Book Project in Lexington, tutoring at the Carnegie Center for Literacy and Learning, to participating in the Great American Clean-up, picking up trash in downtown Lexington neighborhoods.
Students from the class are moving on to a variety of professional and further education careers. Some of the students' next steps include an internship at Skidmore College with the SITI theater company, veterinary school at Purdue University, law school at Harvard University, medical school at the University of Louisville, the medical and law schools at Emory University and summer study in Spain.