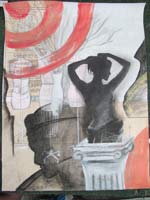 Hansel's Sewn.
LEXINGTON, KY—Transylvania University's art program is graduating a record 10 art majors this year: Isabel Barr, Alison Cahill, Sara Escobedo, Allison Fender, Kara Hansel, Ryla Luttrell, Alexis Schuman, Julia Sebastian, Megan Wainscott and Kayla Weber.
The culminating event of their Transylvania arts education is their senior thesis exhibition appropriately titled, "Ten," opening April 2 and running through April 20 in the Morlan Gallery. There is a reception for the artists on Friday, April 20, 5-8 p.m. as part of the Lexington Gallery Hop. The gallery is open weekdays from noon-5 p.m. and is free and open to the public.
Barr is a studio art and education double major. She grew up in Takoma Park and Bethesda, Maryland. She plans to receive a master's degree in art therapy from the University of Louisville and create an after-school program for special-needs children.
Cahill is an art major and art history minor from Richmond, Ky. Her primary medium is photography and she has recently worked with Triple Play Productions taking sports action photography. After graduation she plans to pursue her passion for art. She is currently looking into the photography and ceramic fields.
Escobedo is a studio art major minoring in biology and Spanish from Wheaton, Ill. She hopes to pursue a career that will lead her to working with animals and expanding her artistic endeavors. She works in digital illustration, ceramic, mixed media sculpture, carving, painting and costume-making.
Fender is an art and art history double major from Melbourne, Ky. Her focuses are painting and sculpture.
Hansel is a studio at major from Florence, Ky. She focuses mainly on two-dimensional work, exploring most especially painting and mixed media collage. After graduation, she plans to pursue the possibilities of establishing a career within the realm of non-profit art organizations.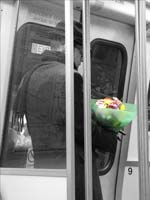 Cahill's From Dark to Light.

Luttrell is a studio art major and music minor from Shepherdsville, Ky. She chose to pursue art as a forum for discussion and believes strongly that art plays a vital role in the way that people communicate with each other and is an indispensable part of human life.
Schuman is a studio art and art history double major with a minor in classics from Louisville, Ky. She works primarily in three-dimensional sculptures, creating works from a variety of medium and materials. Her current works involve bright colors and naturalistic forms. After graduation she plans to pursue a career in the preservation and conservation of art.
Sebastian is a studio art major from Lexington. Her focus is in printmaking and she will be attending graduate school next year.
Wainscott is a studio art major, with a concentration in ceramics, and a minor in business administration. After graduation, she will be joining her family's restaurant business in her hometown of Ft. Mitchell, Ky. and will continue to work on her art in her and her mother's studio located in Petersburg, Ky.
Weber is a teaching art major from Lexington, Ky. She works mainly in 2-dimensional media and enjoys painting and collage. She draws her inspiration from all of her experiences, one of the most significant being her study abroad experience in Florence, Italy. After graduating she plans to work in Fayette County, Ky., teaching art.
For more information please visit the gallery's website or contact director Andrea Fisher at (859) 233-8142.