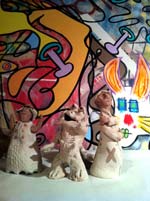 LEXINGTON, Ky.—If you spot a handmade doll hidden in the nooks and crannies of Limestone Street in the next few weeks, feel free to pick it up and give it a good home. It will likely be one of the 1,000 fabric, clay and wooden dolls that Transylvania University students and community members have made as part of the university's Community Engagement Through the Arts (CETA) class.
The public is invited for a sneak peek at the dolls during a community potluck dinner Wednesday, April 4, at 7 p.m. at the Kentucky Theater. The event will also feature live music and Lexington Mayor Jim Gray will speak at 7:30 p.m.
The 1,000 Dolls project is the latest in a series of projects spearheaded by the class, whose goal is to strengthen the relationship between the university and the community by engaging in artistic community projects. Previous CETA classes have made quilts and applied temporary murals to downtown buildings, all while interacting and working with residents of Transylvania's downtown neighborhood. The popular class, taught by art professor Kurt Gohde and English professor Kremena Todorova, has developed somewhat of a following, with community members regularly attending class sessions.
The idea for the 1,000 Dolls project came from local artist Ed Franklin, who makes and hides dolls around town and posts clues to finding them on Facebook. Those who find the dolls get to keep them.
This spring, CETA class members have coordinated doll-making workshops at East Seventh Street Community Center/Kid's Café, Third Street Stuff, Mulberry and Lime and Latitude Artist Community. Along with community members, they made more than 1,000 dolls, which will be displayed at the community potluck and, later this month, hidden along Limestone, from New Circle Road to the University of Kentucky campus.
The CETA class blog about the 1,000 Dolls project can be read here.