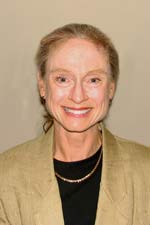 LEXINGTON, Ky.—Sallie Showalter, communications and technology branch manager of the Kentucky Arts Council, has been named Transylvania's web content writer/editor, effective May 1.
"We are delighted to have Sallie join Transylvania University and our communications team," said Sarah Emmons, associate vice president for communications and public relations.
Showalter recently lead a team that reorganized and redesigned the Kentucky Arts Council website, improving its appeal and usability. She edited and designed the award-winning book, "Discover Art in Kentucky," to promote opportunities for Kentuckians and visitors to engage with the arts.
"Last fall, our web development manager Mariana Shochat completed the first phase of our newly designed site (www.transy.edu)," said Emmons. "Sallie will play an important role in enhancing the editorial content."
Showalter previously worked for IBM, Fazoli's Management, Inc., Lexmark International and Toyota Motor Manufacturing. In 2000 she was honored as one of three Lexmark International employees around the world with a Vision Excellence Award.
Showalter earned her bachelor's degree in English from Centre College and her master's in comparative literature from the University of North Carolina, Chapel Hill. She was a Rhodes Scholar nominee and is a member of Phi Beta Kappa.