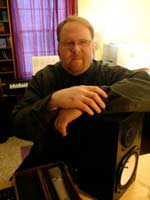 Tim Polashek
LEXINGTON, Ky.—Contemporary music composed by Transylvania University music professor Timothy Polashek will be performed Saturday, April 28, at 7:30 p.m. at Land of Tomorrow Gallery, 527 East Third St., Lexington. Admission is free, but donations will be accepted.
The concert will feature Polashek's "Engravings for Prepared Snare Drum, iPad, and Computer" and "Echoes of Steel: Electro-Acoustic Music for Drum Set"—both performed by percussionist Brad Meyer—and "Micro-Coastings: Electro-Acoustic Music and Video." Polashek and Meyer are founders of the gEARbox Ensemble, which performs contemporary acoustic, electro-acoustic and electronic music and commissions and premieres works by established and emerging composers.
Micro-Coastings is Polashek's first extensive use of video in a composition. "The video camera, like the microphone during the recording of my sound sources, was positioned to frame objects more closely in order to capture things expressively," he said. "All the sounds and video were taken from in and around my family's home in Lexington."
Polashek writes in a variety of media and styles including vocal, instrumental and electro-acoustic music, text/sound compositions and interactive performance. His work has been performed all over the world, and he directed the Studio 300 Digital Art and Music Festival at Transylvania, which was held in September 2011 and featured more than 60 works and exhibitions by artists and musicians from eight countries.
Land of Tomorrow Gallery facilitates the making and showing of experimental works of art, design, and music. For more information, visit www.landoftomorrow.org.