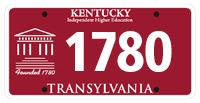 LEXINGTON, Ky.—With the help of alumni, students, faculty, staff, parents and friends, Transylvania University is once again the winner in the Association of Independent Kentucky Colleges and Universities (AIKCU) "Battle of the Bumpers." Transylvania beat out the other 19 AIKCU campuses to put the most campus license plates on Kentucky highways and the most dollars in the school's general scholarship fund.
Transylvania's promotional efforts helped increase their total sales to 852 in 2011, an increase of 84 license plates over 2010. Ten dollars from the sale of each plate is returned directly to the school's general scholarship fund, translating into $8,520 for student scholarships at Transylvania. Overall, sales of Kentucky Independent Higher Education plates raised more than $45,000 for student scholarships in 2011.
"Our license plate really stands out on the road," said Natasa Pajic Mongiardo, director of alumni programs. "Each year I'm more impressed by the number of alumni and friends who purchase or renew the Transylvania plate and support the student scholarships. They are making it very hard for other colleges in Kentucky to catch up to us!"
The Kentucky Independent Higher Education series plates took to the roads in 2002. Each independent college and university had its own plate, but they all shared a common design theme. Thanks to advances in license plate printing technology and some changes in state regulations, AIKCU members were able to work with the Kentucky Transportation Cabinet to redesign their plates in late 2007. The new plates went on sale in January 2008. Transylvania's unique design was the work of Barbara Grinnell, Transylvania's graphic designer.
The 2012 license plate competition began on January 1. For more information, including contact information for your county clerk, visit the Kentucky Transportation Cabinet's Division of Motor Vehicle Licensing.