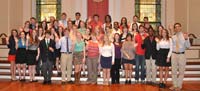 LEXINGTON, Ky.—Forty-six first-year students at Transylvania University were recently inducted into Alpha Lambda Delta, a national honor society that recognizes academic excellence. To be included, students must have maintained a 3.5 or higher GPA during their first year or term of college.
The new inductees are: Cordelia Addington, Thomas Amburn, Aimee Ashcraft, Ajibola Bakare, Therese Boeding, Rachel Burns, Alexis Carey, John Carter, Jade Clemons, Casey Coomes, Casey Crutcher, Mallory Cummings, Jerica Duke, Henry Eberhardt, Lauren Gallenstein, Sebastian Guerra, Elizabeth Hardt, Rachel Hempel, Jesse Johnson, Rebecca Keith, Nashwin Laungani, Brooke Lee, Katelyn Long, Jessica Mahoney, Courtney Marshall, Emily Martin, Keri Mayhew, Kayla Miller, Stevie Morrison, Julia Murray, Paige Napier, Matthew Nease, Taylor Nossokoff, Alyssa O'Bryan, Bria Parker, Kristen Pope, Rachel Sanders, Skyler Slone, Rachel Smith, Donovan Sowder, Miller Travis, Tyler Turcotte, Valerie Whitlock, Michaelah Wilburn, Graham Winchester and Jacquelyn Young.
Three honorary members were also inducted: Jim Mills, registrar; Carole Barnsley, assistant professor of religion; and Jeff Freyman, professor of political science.
Transylvania, founded in 1780, is the nation's sixteenth oldest institution of higher learning and is consistently ranked in national publications as one of the top liberal arts colleges in the country.