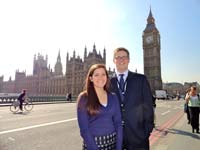 LEXINGTON, Ky.—Even the London fog can't dampen the spirits of Transylvania juniors Andrew Goff, of Louisville, Ky., and Lindsey Anderson, of Shelbyville, Ky. Participating in the Hansard Scholars Program in London this term, these students are taking a new approach to hands-on learning. Their Mondays are spent as students, taking classes at the London School of Economics. The rest of the week is spent as interns to a Member of Parliament (MP) – their hands on the pulse of British government.
Both Goff and Anderson have been thrown amidst exciting action. "Being introduced to the British system and at such a high level has definitely been the most rewarding part of my experience," Anderson says. "I've gotten to see debates in the House of Commons, accompany my MP to talks with constituents, and even help prepare questions for him to ask at meetings of the Justice Select Committee."
Goff, too, has encountered exciting opportunities, including a trip to 10 Downing Street with his MP's team and a special tour. "Someone on [Prime Minister] Cameron's staff gave me the tour, and she told me it was the same one they gave to President Obama on his first visit to No. 10," Goff recalls. "I was honored to get an insider's glimpse of the rich and storied institution."
Often, the most compelling discoveries occur beyond the study abroad programs. Goff and Anderson, have taken in such incredible sights as the Palace of Westminster, the White Cliffs, and St. James Park. While walking or hiking in England, Goff and Anderson have been able to reflect on new perspectives that have grown from their term abroad.
"By far the most important thing I have learned is my new appreciation for self-reflection," Goff says. "As a people person, I never envisioned myself saying that, and I can thank my amazing experience here in London for that."
London has given Anderson a fresh perspective on her past and future. "While I am enjoying my time here, I have learned to appreciate the place that I come from," she says. "And I know that Lexington is the type of place that I want to spend the rest of my life and the type of community to which I want to contribute in my future endeavors."
Both Anderson and Goff are thankful to Transylvania for this once-in-a-lifetime experience. "Virtually none of this would have been possible without the help of the Transylvania study abroad office," Goff admits.
Anderson also values the role her Transylvania education has played. "Transylvania has prepared me for this program by the rigorous academic workload. I was exceedingly prepared to do the work that has been asked of me and to do it well."
Just as Transylvania is an integral component to their study abroad experience, the discoveries of their term in London will transcend ocean and time – forever staying with them and shaping who they become.
Click here to read more about Transylvania's study abroad program.