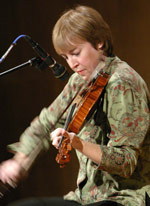 LEXINGTON, Ky.—Grammy-nominated fiddler Liz Carroll
will give a concert Thursday, April 5, at 7:30 p.m. in Transylvania
University's Carrick Theater. Accompanying Carroll will be Cork-born
composer and pianist Cormac McCarthy. Tickets for the World Voices Series Concert are $10. (One free ticket with a Transylvania ID).
The concert has been rescheduled, after tornado warnings on March 2 prompted the postponement of the show. Ticket reservations for the March 2 show are void and those wishing to attend the concert must make new reservations by calling (859) 233-8141. 
Carroll began composing music as a child and has performed with artists
ranging from violinist Yehudi Menuhin to rocker Don Henley.
"Liz Carroll has amazed audiences around the world and we are thrilled
to have her perform at Transylvania," said Larry Barnes, professor of
music and director of the World Voices Series. "She is a recognized
master of the Celtic fiddle and all who come to hear her are in for a
real treat."
In April 2011, Carroll was awarded the Cumadóir TG4, becoming the first
American-born composer to be honored with Ireland's most significant
traditional music prize.
Irish Echo, the largest circulation Irish American weekly newspaper,
calls Carroll's playing "nothing less than breathtaking," and a concert
review from The New York Times declares Carroll "Brilliant…She does
more than run through her finger twisting reels and sustained slow airs.
She—and her listeners—continually rediscover each melody."
McCarthy, originally from Cork, Ireland, lives in Chicago. A composer
and pianist, he began studying piano at age four and continued his
studies at the Cork School of Music as a teenager. In 2010, McCarthy
received the prestigious Bill Whelan International Music Bursary, an
award for young Irish composers studying abroad.
Seating is limited to the first 250 tickets reserved by calling
Transylvania's fine arts box office at (859) 233-8141. Payment is by
cash only at the box office the evening of the show. Reserved tickets
unclaimed by 7:20 p.m. will be released. (Transylvania students, faculty
and staff can get one free ticket with their university ID; however,
the ticket must be reserved.)