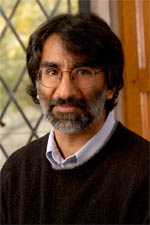 LEXINGTON, Ky.—Yale University law and political science professor Akhil Reed Amar, one of this era's most accomplished constitutional law scholars, will deliver Transylvania's John Marshall Harlan Lecture on Thursday, April 26, at 6:30 p.m. in Carrick Theater. The lecture is free and open to the public.
Amar, who will speak on "America's Symbolic Constitution," is Sterling Professor of Law and Political Science at Yale, where he teaches constitutional law in both Yale College and Yale Law School. He earned his B.A., summa cum laude, in 1980 from Yale College and his J.D. in 1984 from Yale Law School, where he served as an editor of The Yale Law Journal. After clerking for Judge Stephen Breyer, U.S. Court of Appeals, 1st Circuit, he joined the Yale faculty in 1985.
Amar was named one of the top 20 contemporary U.S. legal thinkers by a Legal Affairs readers' poll and served as a consultant for the television show "The West Wing."
"We are elated to have Akhil deliver our second John Marshall Harlan lecture," said Transylvania President R. Owen Williams. "As one of the nation's truly great constitutional law scholars, he is a perfect fit for this lecture series. In addition to being a prolific writer, he is a remarkably engaging speaker. We are fortunate to have him on campus, and we extend an invitation to our entire community to enjoy this wonderful event."
Amar is co-editor of a leading constitutional law casebook, "Processes of Constitutional Decisionmaking," and the author of several books, including "The Constitution and Criminal Procedure: First Principles" (Yale University Press, 1997), "The Bill of Rights: Creation and Reconstruction" (Yale University Press, 1998) and "America's Constitution: A Biography" (Random House, 2005).
The lecture series is named after U.S. Supreme Court Justice John Marshall Harlan, who graduated from Transylvania's law department in 1852. It is made possible by a gift from the Lexington law firm McBrayer, McGinnis, Leslie & Kirkland, PLLC.
For more information, contact the public relations office at (859) 233-8120 or news@transy.edu.