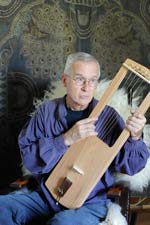 LEXINGTON, Ky.—Hunter Hensley, professor of voice at Eastern Kentucky University, will perform "Songs and Chants: A Window into the Middle Ages," a program of medieval chant and early French song, at Transylvania University's Old Morrison chapel Thursday, March 22, at 7:30 p.m. The concert is free and open to the public.
The performance will include melodies from the earliest repertoire of ninth century Gregorian chant, through fourteenth century Machaut virelai—songs for dancing. 
"The medieval melodies are the foundation of most music performed today," said Hensley.
Hensley recently completed academic recording projects of medieval music for musicologists at University of California Berkeley and Cornell University and has performed at three national musicological conferences in the last year and a half.
Featured in the program will be a historic six-stringed Kinnor harp, or cithara, reconstructed and made to Hensley's specifications by Stanley Caswell of Danville, Ky., in a performance of the twelfth century lamentation, Planctus David, by Peter Abelard (1097-1142).
For more information, contact the fine arts office at (859) 233-8141