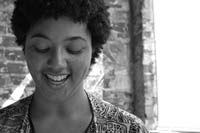 LEXINGTON, Ky.—Affrilachian poet, multidisciplinary artist and Cave Canem Fellow Bianca Spriggs will deliver the commencement address at Transylvania University on Saturday, May 26, at 9:30 a.m. on the steps of historic Old Morrison.
Spriggs, a 2003 graduate of Transylvania, was named as one of the Top 30 Performance Poets by TheRoot.com, is a Pushcart Prize nominee and a recipient of multiple Artist Enrichment Grants and an Art Meets Activism Grant from the Kentucky Foundation for Women. In partnership with the Kentucky Domestic Violence Association, she is the creator of "The Swallowtale Project," a creative writing workshop dedicated to the women inmates at the Federal Prison Camp, and the creator and artistic director of the Gypsy Poetry Slam featured annually at the Kentucky Women Writers Conference.
She has taught poetry and creative writing classes at Lexington's Carnegie Center for Literacy and Learning and is currently in the doctoral program for creative writing at the University of Kentucky. She was visiting writer and instructor in Foundations of the Liberal Arts at Transylvania from 2008-09. She is the writer, producer, editor and director of the film "Waterbody" and the author of poetry books "Kaffir Lily" and "How Swallowtails Become Dragons."
Her work may also be found in the anthologies "New Growth: Recent Kentucky Writings" and "America! What's My Name?," and in the journals "Union Station Magazine," "Tidal Basin Review," "Muzzle," "Caduceus," "Alehouse," "Reverie," and  Appalachian Heritage Magazine, among others. Spriggs currently serves on the editorial board for ninepatch and TORCH: poetry, prose, and short stories by African American Women, and she is the managing editor for pluck! The Affrilachian Journal of Art and Culture.
Spriggs earned a master's of arts in English composition/creative writing at the University of Wisconsin-Milwaukee.
Commencement information can be found here.